TACO BAR -
$22/PERSON
PICK TWO PROTEINS

Smoked Chuck - Mesquite Chicken - Smoked Pork - Ground Beef

ADDITIONAL CHARGE
Blackened Rockfish - Cilantro Lime Shrimp - Meyer Lemon Smoked Salmon - BBQ Brisket
CONDIMENTS TO INCLUDE
Grilled Corn & Flour Tortillas - Sour Cream - Cheeses - Chopped Cilantro & Onions - Limes
ADDITIONAL CONDIMENTS
(Depending on proteins picked, no extra charge)

SIDES

Cilantro Lime Rice

OG Mexican Beans

House Made Chips & Fire Roasted Salsa

Cafe Caesar Salad
Chopped Romaine -House Paprika Croutons - Shaved Parmesan - Roasted Garlic Lemon Dressing
SLIDER BAR - $22/PERSON
PICK TWO PROTEINS

Smoked BBQ Pulled Pork - Guajillo Braised Chuck Roast - Smoked Mesquite Chicken - BLT - Buffalo Crispy Chicken - Italian Turkey Bacon Avocado - Vegetarian - Chicken Salad
CONDIMENTS TO INCLUDE
(Depending on proteins picked, no extra charge)
House Aioli's - House Mustards - Chutneys - Root Beer & Blackberry BBQ Sauce - Dr. Pepper & Peach Habanero BBQ Sauce - Roasted Peppers - Lettuce - Assortment of Cheeses - Tomato - Chopped Slaw - Assortment of Breads & Slider Buns from Stone Ground Bakery
SIDES

OG Potato Salad

May substitute
Pasta Salad - Macaroni & Cheese - House Pineapple Baked Beans - Roasted Corn on the Cob (no extra charge) - House Chips
ASSORTED SUB SANDWICH PLATTERS - $18/PERSON
INCLUDES

Chips and Cookies

DINNER MENU #1 - $34/PERSON
SAUERKRAUT & BACON CRUSTED VERLASSO SALMON

Whole Grain Mustard Sauce

CHARRED GREEN BEANS
Roasted Red Peppers - Citrus Vinaigrette

HERB ROASTED POTATOES
Rosemary Garlic Butter

BABY SPINACH SALAD
Toasted Pecans - Goat Cheese - Pickled Shallots - Sun-Dried Blueberries - Maple Balsamic Vinaigrette

LAVOSH PARMESAN-HERB CRACKER BREAD
DINNER MENU #2 - $32/PERSON
ALL NATURAL LOCAL HONEY BRINED CHICKEN

Applewood Smoked - Fresh Berry Salsa

18 HOUR SLOW SMOKED PORK SHOULDER
House Made BBQ Sauce

GRILLED PINEAPPLE COLESLAW

SLIDER BRIOCHE BUNS

TRI COLOR FINGERLING POTATOES
Roasted Garlic & Herb Butter

BABY SPINACH SALAD
Toasted Pecans, Goat Cheese, Pickled Shallots, Sun-Dried Blueberries, Maple Balsamic Vinaigrette

LAVOSH PARMESAN-HERB CRACKER BREAD
DINNER MENU #3 - $38/PERSON
BAKED ATLANTIC SALMON

Mesquite Rubbed - Local Corn & Blueberry Salsa

SMOKED ALL NATURAL CHICKEN
Local Honey Brined - House BBQ Dipping Sauce

CHARRED GREEN BEANS
Blistered Red Peppers - Citrus Vinaigrette

ROASTED RED POTATOES
Garlic Herb Butter

SPINACH AND WATERMELON SALAD
Pickled Red Onion - Feta Cheese - Toasted Pecans - Strawberry Champagne Vinaigrette

LAVOSH PARMESAN-HERB CRACKER BREAD
DINNER MENU #4 - $33/PERSON
GUAJILLO BRAISED PRIME BEEF SHORT RIBS

Caramel Demi

ROASTED GARLIC MASHED POTATOES

SAUTEED ZUCCHINI
ORGANIC BABY SPINACH
Fresh Strawberries - Pickled Red Onion - Feta Cheese - Candied Walnuts - Raspberry Champagne Vinaigrette

LAVOSH PARMESAN-HERB CRACKER BREAD
PRICING WILL VARY DEPENDING ON SELECTIONS AND REFLECT CURRENT MARKET PRICE. PREPARATIONS TO BE DISCUSSED BETWEEN CHEF AND THE CLIENT.
Sauerkraut Salmon – Whole Grain Mustard Sauce

Honey Brined All Natural Chicken – Smoked or Herb Roasted
Niman Ranch Pork Chop – Cast Iron Seared
Hand Cut Ribeye
Smoked Prime Rib Roast
Smoked Pulled Pork
Smoked Brisket
Neiman Ranch Uncured Louisiana Hot Links
Smoked St. Louis Ribs
Red Wine Braised Beef Short Ribs
Veal Scallopini
Colorado Rack of Lamb
Shrimp Scampi
Shrimp, Beef, or Chicken Kabobs
Smoked Ham
Filet Mignon
Roasted Garlic Mashed Potatoes
Roasted Red Potatoes With Herb Butter
Parmesan Leek Risotto
Rice Stir Fry
Rice Pilaf
Sweet Potato Mash
Toasted Quinoa
Cous Cous
Creamy Polenta
Green Chili Polenta Cake
Roasted Corn
Roasted Green Beans and Red Peppers with Garlic Lemon Vinaigrette
Marinated Vegetable Kabobs
Sautéed Peppers and Mushrooms
Roasted Acorn Squash with
Bourbon Caramel Butter
Butternut Squash Puree
Baby Carrots with Honey Butter
Grilled Asparagus
Sautéed Zucchini and Squash
Roasted Butternut Squash
Oven Fired Brussel Sprouts with Bacon Lardons
Grilled Portobello Mushrooms
Mexican Pulled Pork Mini Tostadas – Slow Smoked Pork Shoulder – Cumin Rubbed – Black Bean Puree – Guacamole – Queso Fresco – OG Sour Cream
Shrimp Ceviche – Local Corn – Tomato – Red Onion – Cilantro – Lime
Smoked Wings – Celery – Carrots – Blue Cheese Dressing
Short Rib Sweet Potato Pancake – Poblano Mousse – Green Onion
Tuna Pokè Wonton Cups – Ponzu – Wakame Salad – Ginger – Sesame Seeds
Devilled Eggs – Pancetta – Dill
Caprese Skewers – Fresh Mozzarella – Basil – Baby Heirloom Tomato – Aged Balsamic Reduction
Lobster Arancini – Tarragon Creme Fraiche – Chive
Fruit & Cheese Board – Hand Cut Fruit – Local Cheese – IPA Whole Grain Mustard – Local Jellies
Charcuterie Board – Assortment of Meats, Cheeses, Artisan Breads, Olives, Fruit and Nuts, with Local Jelly and Mustards
Goat Cheese Brushetta – Strawberry & Tarragon Jelly
Green Salad
Pasta Salad
Fruit Salad
Chilled Vegetable Salad
Chicken Strips
Burgers
Mac n Cheese
Sub Sandwiches
All Beef Hot Dogs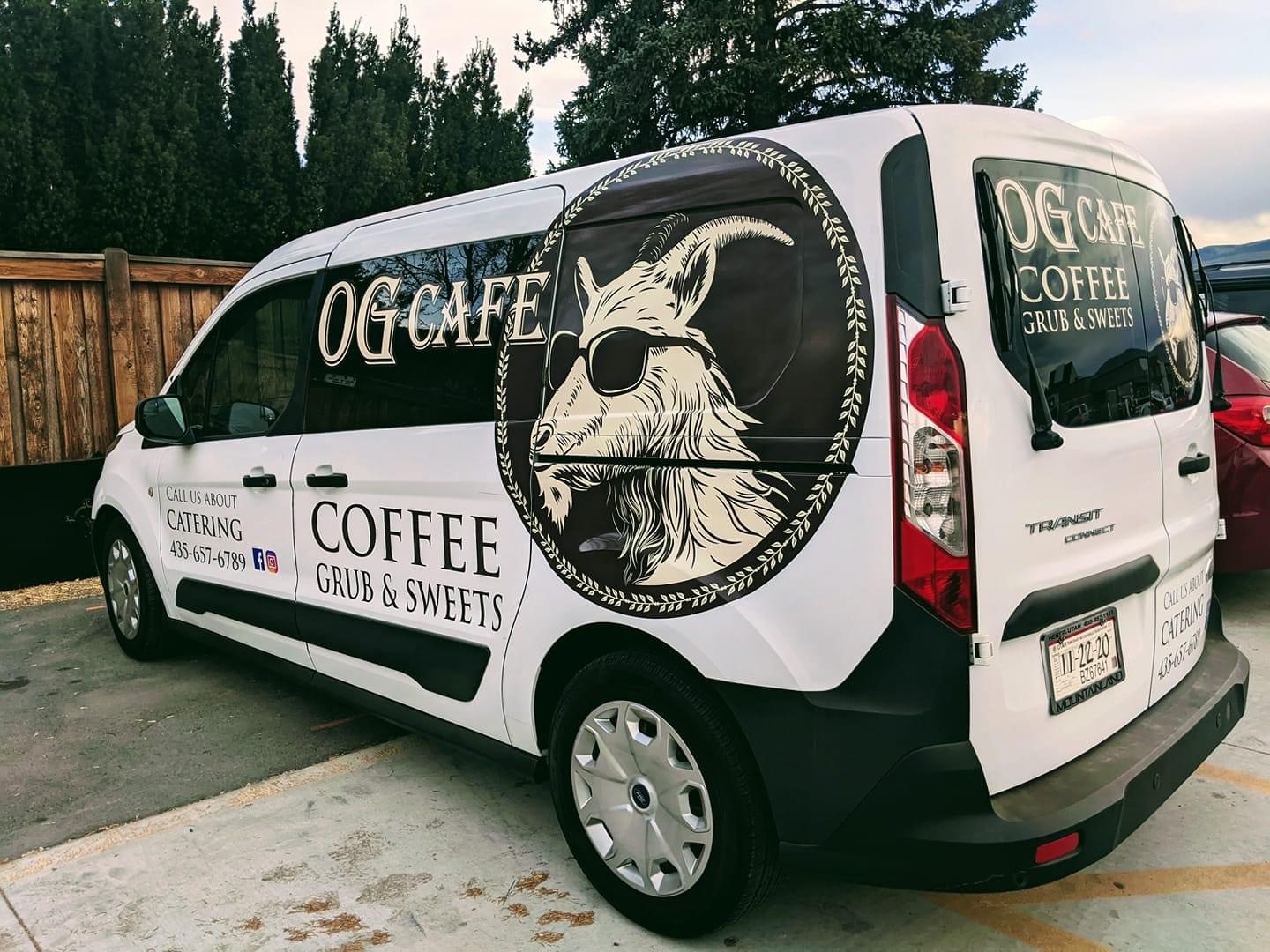 It is our pleasure to create the perfect catered menu for your next event or gathering.
Email us at oldgoat459@gmail.com